Last updated on 16 june 2022 by CellSpyAustralia
WhatsApp is one the most popular IM apps these days. Though, we sometimes wish to hack an account and access messages as well as attachments sent by others in a person's group chat or even individual conversations via this application – it's quite easy! You just need some tricks up your sleeve so keep reading if you want more information on how exactly do that without getting caught…
In this post, I'm going to discuss every possible solution for how to hack WhatsApp without being detected.
Why You Should Consider Hacking Someone's WhatsApp?
Fortunately for you, there are some scenarios in which hacking WhatsApp can be vital.
Hacking WhatsApp messages is important for parents to know who their kids talk with.
You can get an idea as what they're up too, make sure your child won't be bullied and much more!
WhatsApp hacking is a great way to keep tabs on your partner's messages. If you think they might be unfaithful, then there's no need for doubts anymore because this technique will give it all straight from their device!
Companies using these techniques in order track employees while making sure nothing leaks out–you can rest assured knowing that anything spoilerish won't go unnoticed either
How to Hack WhatsApp with Spy Apps (Undetectable Solutions)
There is a way to learn how hack WhatsApp without having access or being detected by the other person. You can use one of these professional spy apps that will allow you in-depth manipulation and surveillance, giving your company an edge over competition!
The Best WhatsApp Hacking App for iPhone – mSpy
To hack WhatsApp messages on an iPhone, there's no better solution than mSpy. The device tracker supports both jailbroken and standard devices offering a wide range of features that not only allow you to access your friend's chat history but every other app-related detail remotely too!
With the help of MSpy, you can remotely view their exchanged WhatsApp messages with contact and timestamp details.
The WhatsApp tracker will allow you to monitor all of your conversations on the app, including attachments like photos and videos.
You can track the overall activity of WhatsApp, like how many hours they have used their app.
Along with WhatsApp, mSpy can also track your location and other social apps such as Facebook.
The mSpy WhatsApp tracker will not give off any indication that you're tracking them.
To learn how to hack someone's WhatsApp without their phone access using mSpy, just follow this basic drill.
Step 1: Get your mSpy subscription
At first, you have to go to the official website of mSpy and get an active subscription. You can select the type of device from here and choose between a jailbroken or non-jailbroken version.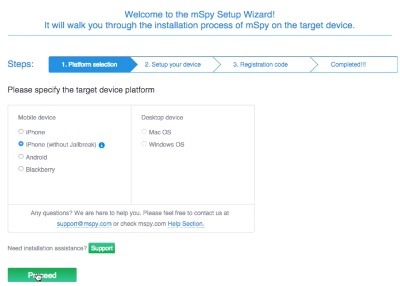 Step 2: Set up the mSpy tracker on iPhone
If you have selected the non-jailbroken version, then you need to ensure their WhatsApp data is synced to iCloud. You can go to their phone's WhatsApp Settings > Chats > Chat Backup and enable this option.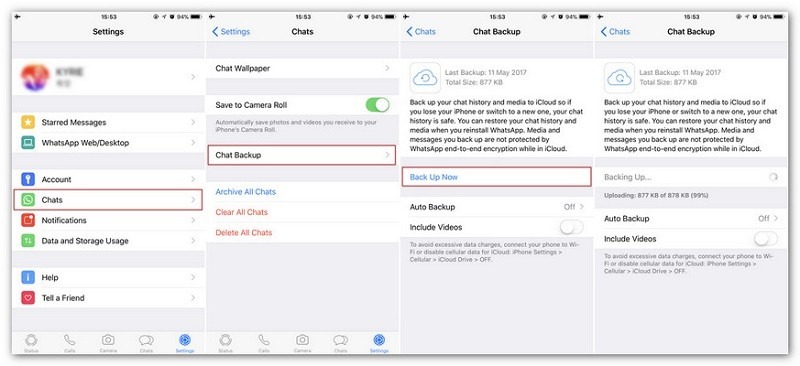 Now, you just have to log in to the same iCloud account where their WhatsApp backup is stored.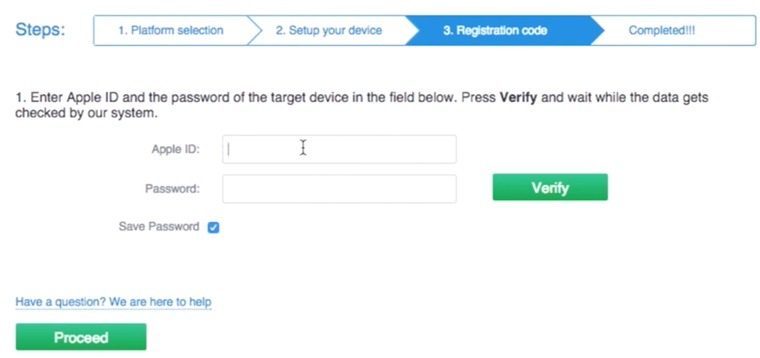 In case you have opted for the non-jailbroken version (that has better features), then you can take the assistance of Cydia to install the app.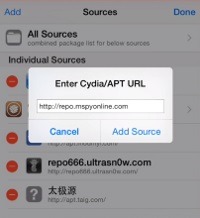 Afterward, launch the mSpy tracker on the target iOS device, log in to your account, and grant it access to track the device in the background.
Step 3: Monitor their WhatsApp chats
That's it! Once the setup of your mSpy account is completed, you can go to its dashboard whenever you want and visit the "WhatsApp" section. This will display a detailed list of all the exchanged WhatsApp chats with their timestamps.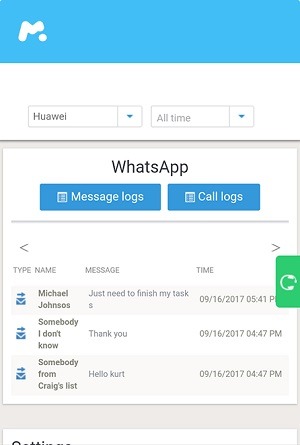 The Best WhatsApp Hacking App for Android – Hoverwatch
Just like an iPhone, you can also hack WhatsApp messages on Android devices with Hoverwatch. The device tracker is pretty easy to use and is ideal for hacking WhatsApp on all the leading Android models.
Once you have completed the setup process for your Hoverwatch tracker, they can view their messages remotely.
Every WhatsApp message will also display information such as who it is from and when in time this particular piece of content was sent/received by that person!
The Hoverwatch tracker is an app that can be installed on any Android device.
Once installed, you'll have access to all of your WhatsApp chats and other data such as photos or videos exchanged within the application's messaging feature – without having direct contact with anyone involved!
The Stealth Mode allows us no visibility whatsoever; it will work seamlessly even when not being actively monitored by authorities so long as there isn't another observer performing searches through their logs (which would require hacking).
Hoverwatch not only helps you keep tabs on your social media apps but also their live location, call logs and more.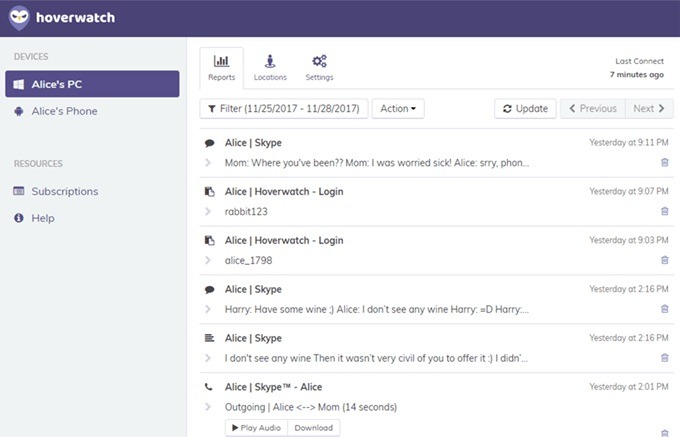 How to Hack Someone's WhatsApp with Its Web Version
You can access their phone once, and then sync or track them through WhatsApp web. You should know that this will let the targeted user know you're tracking them–they'll need to turn it off whenever they want privacy from prying eyes!
This technique lets you access their phone once, then sync it to your computer. You can also monitor messages on the synced device via web browser if needed- though know that this might make them suspicious!
Although, you should know that this WhatsApp hacking technique will let the targeted user know that you are tracking them and they can turn it off whenever they way.
Step 1. To learn how to hack WhatsApp on iPhone/Android, launch the app once, and go to its Settings > WhatsApp Web.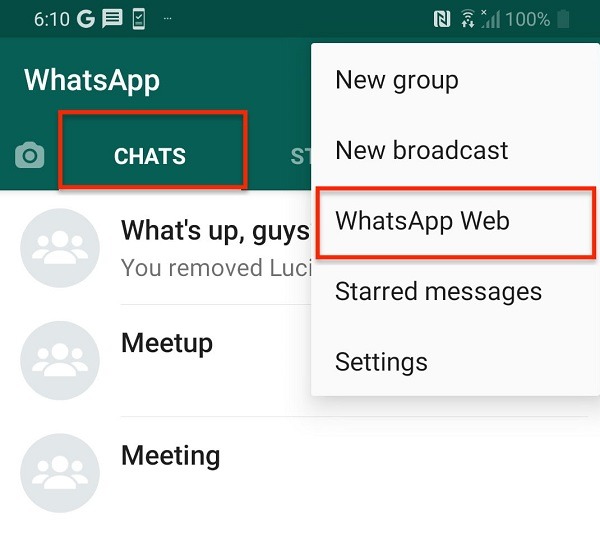 Step 2. Now, on your system, launch any browser (like Chrome) and just visit the website of WhatsApp web (web.whatsapp.com).

Step 3. A unique QR code would now be displayed on the screen to let you sync your WhatsApp account. You just have to use the camera of the target device to scan and sync this code.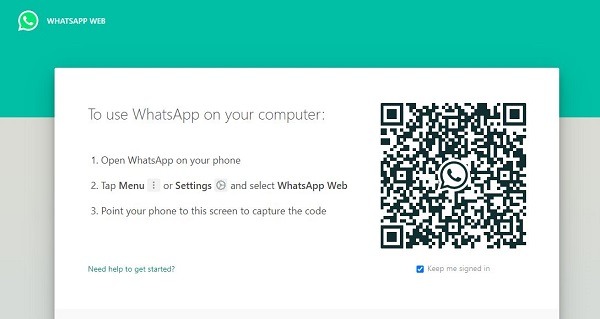 That's it! Once the authentication is completed, you can access their WhatsApp account on your computer. In case they have already synced their account to the WhatsApp web, then you can access the same from their computer.
Cons:
The other user will be notified whenever the WhatsApp Web version is activated.
They can log out of WhatsApp Web anytime from their phone.
How to Hack WhatsApp with Their Phone Number
You might already know that WhatsApp accounts are linked to a registered phone number. To learn how to read someone's WhatsApp messages without their phone, you can simply connect the app to their number.
For this technique to work, you should access their phone number at least once to enter the unique authentication code. The following steps can be followed to learn how to hack WhatsApp on iPhone/Android.
Step 1. If you can't access their number permanently, then you can change their registered number. For this, launch WhatsApp and go to its Settings > Accounts > Change Number option.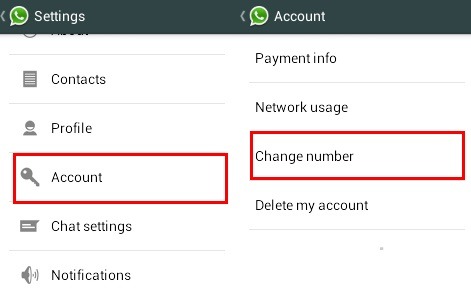 Step 2. Now, you just have to enter the old and the new number and submit a unique authentication code to validate the new number.
Step 3. That's it! After their phone number is changed, you can reinstall WhatsApp and enter the new number. You can enter the new authentication code now to access their WhatsApp account.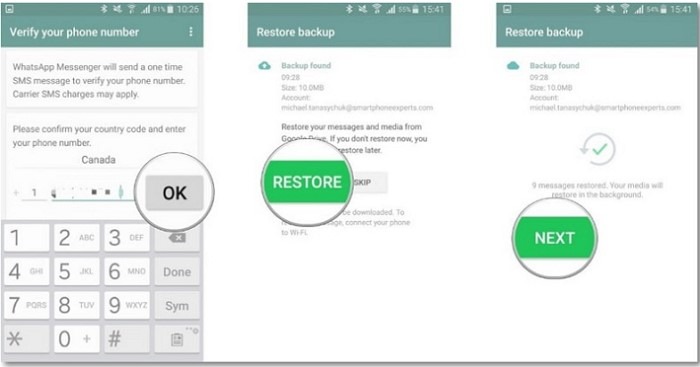 Cons:
Low success rate and difficult to implement.
Will only provide a temporary solution.
How to Hack Someone's WhatsApp with Google Backup
Lastly, you can also take advantage of a previously saved backup on Google Drive to hack WhatsApp messages. For this we will explore the hacked app's feature that allows users back up their data in case something goes wrong!
This is a great way to access your past messages on any device! The only thing you can't do with this app are track what they're doing in real time, but it'll still help when stuff happens and we need answers.
Step 1. Firstly, you need to make sure that their WhatsApp chats are saved on Google Drive. For this, just go to their WhatsApp Settings > Chats > Chat Backup and tap on the "Back up Now" button. You can also connect an active Google account from here.
Step 2. Once their WhatsApp backup is saved, you can later install WhatsApp on your phone and connect it with the same number. Also, make sure that your device is now connected to the same Google account where the backup is saved.
Step 3. Later, when you would reinstall WhatsApp, it will give you an option to restore the backup from Google. Simply tap on the "Restore" button and wait for the WhatsApp chats would be retrieved on the device.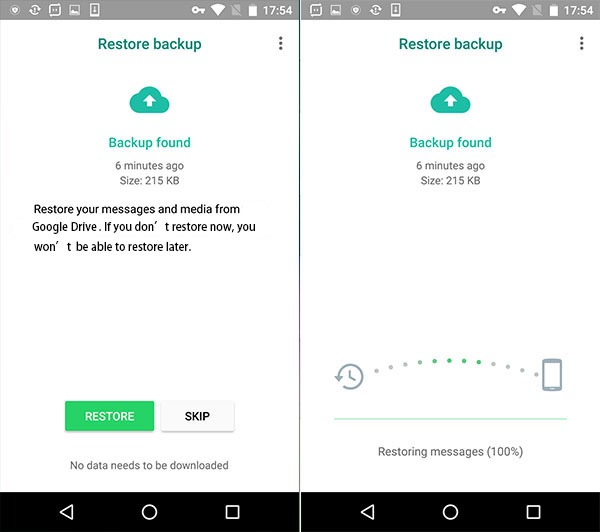 Step 4. Apart from that, there are also dedicated third-party tools that can extract a saved Google backup and retrieve WhatsApp chats. For this to be accessed, you just have to log in to their Google account and select an appropriate WhatsApp backup.
Cons:
You must know their Google account credentials for this to work.
It can only help you access their past (already saved) WhatsApp chats.
How to Hack WhatsApp Using a Keylogger
If you want, install a keylogger on the target device to hack their WhatsApp messages. For instance both Hoverwatch and mSpy come with dedicated tools that would track all of typed keys in use by this person's phone number
There are many ways to hack someone's WhatsApp messages. One way is by installing a keylogger on their device which will record all of the typing they do in real time and send it back to you so that everything can be analyzed later with ease!
The best part about these types if software? They're completely free for anyone who wants them, but there might need commitment from both parties before any agreement was made since some features require paid subscriptions while others don't have monthly fees at all – just one-time payments or annual ones (which also include lifetime access).
Once the setup is completed, you can enable keylogging and go to your mSpy account for deleted messages.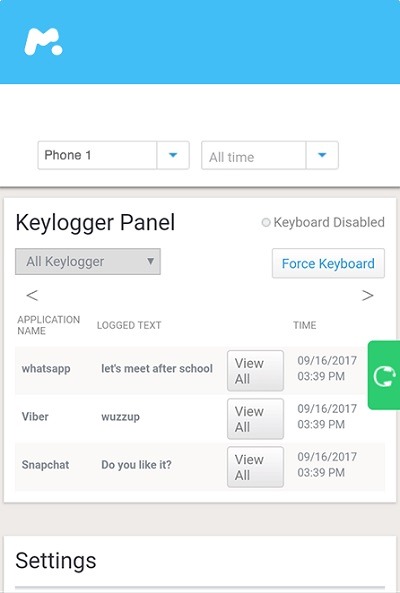 A Quick Comparison
As you can see, there can be so many options for hacking WhatsApp messages. To help you pick the best way to hack WhatsApp messages, you can learn from their comparison here.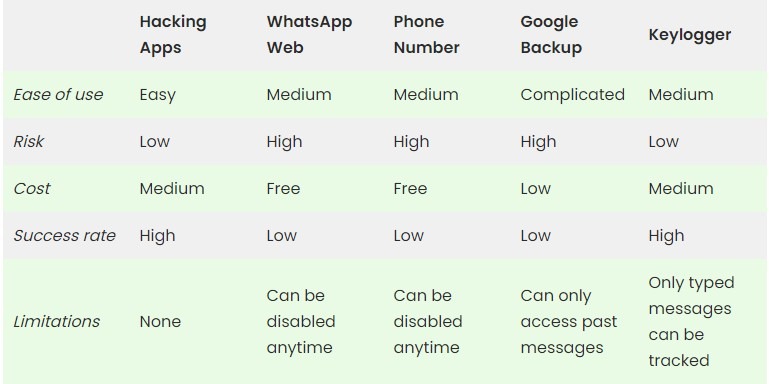 How to Prevent Your WhatsApp from Getting Hacked?
Since it is pretty easy to hack someone's WhatsApp, you can consider the following tips to keep your account (and device) safe.
Firstly, try not to forward your registered number to a lot of people so that they won't know your linked account details.
While the option of Google/iCloud backup is helpful, you should disable the automatic backup feature to protect your data.
Never share your WhatsApp registration code (the one-time generated code) with anyone so that they can't access your account.
If you have linked your WhatsApp with an iCloud or Google account, then make sure that the account is secure with two-factor authentication turned on.
Always keep your phone in sight and protected to ensure no one can access it without your permission.
Apart from locking your phone with biometrics (like the fingerprint lock), you can further implement another lock on the WhatsApp app.
I'm sure that after reading this post, you would be able to hack the WhatsApp messages of any user. From the available options, a device tracking app like mSpy or Hoverwatch would be the best pick. Go ahead and try these solutions or share this guide with others to teach them how to hack someone's WhatsApp without being detected.
After reading this article, you will know how to hack someone's WhatsApp messages. A device tracking app like mSpy or Hoverwatch would be my recommendation for the best choice if that interests you!